History of Thirsk

History of Thirsk
Thirsk Carnival 1921 (video – silent film from Pathé News)
Lying in the fertile Vale of Mowbray between the Hambleton Hills and the uplands of the Dales, Thirsk has long been the focus of trade for a score of villages. The name may have originally denoted 'settlement by a river' and certainly the oldest dwellings cluster on either side of the Cod Beck. On the east bank St James Green bears the name of a long-vanished chapel and was the traditional site for horse and cattle dealing.
Across the bridge the road leads into the Market Place proper where the Cross and the Market Hall once stood. On Castle Garth excavations in 1994 uncovered early Saxon graves on the site where the Normans built a castle in the years after the Conquest. The lands around were held by Robert de Mowbray who gave his name to this district. The Mowbrays castle was later destroyed, but by the fifteenth century the citizens were prosperous enough to undertake the rebuilding of their parish church. The church apart, most of the architecture seen today dates from the eighteenth and nineteenth centuries when the improvements made by the great landowners brought prosperity to the farming community.
Set amid good grazing land, Thirsk was a centre for sheep, cattle and horses, where the Monday market and annual fairs saw lively dealing in beasts and produce. Skins and hides provided raw materials for tanners and leather workers working in shops and sheds crammed into yards behind the houses.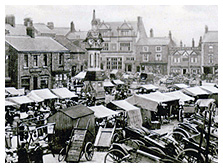 There were corn mills and breweries. There was trade in wool and linen; the wool industry eventually departed to the West Riding, but flax dressing and linen weaving continued into the middle 1800's.
There was work for other trades as well; there were blacksmiths and farriers, there was an iron foundry in Norby, there were wheelwrights, carpenters and joiners, tailors, haberdashers and the oldest drapers in the kingdom. Shopkeepers supplied the needs of town and country folk alike, while a score of taverns slaked their thirst.
The courts met regularly in Thirsk with the gentry sitting as justices. The well-to-do built prestigious town houses or moved to the more salubrious surroundings of neighbouring Sowerby.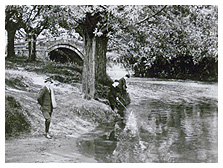 Medical men joined with the clergy, the wealthier farmers and successful merchants to form a social elite.
With the building of turnpike roads in the later eighteenth century Thirsk became a post stage on the route from York to Edinburgh; three of the Inns were noted as coaching establishments. Other houses offered stabling for the horses that were the chief means of local transport until well into the twentieth century.
The coming of the railway in the 1840's and, later, the growth of motor transport combined with the effects of two world wars, brought radical changes to a way of life that had persisted for some two hundred years.
Crafts have died out and family businesses have closed; the old way of life has largely disappeared, but new industries have developed and fresh skills have emerged to keep Thirsk a thriving community.
The story of Thirsk goes back 1500 years
c550 Anglo-Saxon community thriving in Thirsk
1086 Mentioned in Doomsday Book as two manors in Tresche with total value of 30 shillings. (12 houses; 60 inhabitants)
1092 Norman Castle built by the de Mowbray family
1145 Market privileges confirmed, held weekly on Mondays to present day.
1174 Thirsk Castle destroyed by order of King Henry II.
1398 Castle Garth laid to grass - previously garden
1430 Rebuilding of St Mary's Parish Church begins on an earlier Norman Church site
1480 Parish Church completed
1489 The people of the North refuse to pay new taxes. Earl of Northumberland slain.
1513 The room above the church porchis the home of a hermit.
1580 Draper Bartholomew Smith runs a stall in the Market Place and founds a business that continues in Thirsk for 400 years.
1623 Earliest records of Thirsk Court Proceedings
1658 Deeds to Castle Yard (Garth) passed to the Bell Family
1672 Pack Horse Bridge over the Codbeck at The Worlds End built
1676 Thirsk Prison built where the Marage was at the end of Kirkgate
1698 Bell family Dowager House built, later known as the Three Tuns Hotel
1720 Thirsk Hall built as a two story building
1723 Earl of Derby sold the Thirsk Manor and Hall to the Bell family who become Lords of the Manor of Thirsk
1740 Three Tuns Hotel established - converted from the Bell Dowager House
1754 Bull Baiting in Bull Ring outlawed
1754 Floods, washing Finkle Street bridge away – rebuilt as present
1755 Thomas Lord of Lords Cricket Ground born in Kirkgate, Thirsk
1765 First Methodist Chapel (octagonal) built on The Green
1768 Work started on Thirsk Canal construction – Harbour wall, Lock, etc.
1771 Disastrous floods in the town - also in 1826, 1879, 1930 and 2000.
1774 Extension of Thirsk Hall completed (third centre story and wings)
1775 Mill Race built to supply The Mill with a head of water to drive the wheel
1775 Thirsk Mill built, where previous Mills dating from 1143 and 1287 were
1786 Thirsk is a posting stage for coaches calling at the Three Tuns and the Fleece.
1789 Thirsk Prison demolished (inmates transferred to N'allerton)
1790 Quaker Meeting House in Kirkgate built
1797 Admiral Nelson wounded in landing at Santa Cruz - his right arm is amputated by surgeon of HMS Theseus, Thirsk-born Thomas Eshelby.
1810 The Golden Fleece established as a Coaching Inn by George Blythe
1814 Methodist Chapel built on The Green (replacing previous 1765 one)
1818 Elm tree on The Little Green burned down
1824 The Golden Fleece expanded by Blythe
1828 The Hall family inherited The Golden Fleece, becoming 'Halls Fleece'
1833 Thirsk Infants School built on Finkle Street
1834 Gas works built in Long Street – town lit by gas
1834 Tollbooth, Market Hall and Old Court House building burnt down
1834 Gas Works built in Long Street - town lit by gas until 1906.
1836 W Foggitt set up business in Market Place as a Chemist - later Boots
1838 Thirsk Union Workhouse built on Sutton Road.
1839 Bull ring in Market Place removed
1839 Union Workhouse built on Sutton Road
1841 Railway Station built for NE Railway
1841 Undenominational School on Long Street built
1841 William Hall adapted The Golden Fleece to the coming of the railway
1841 NE Railway opened. Line to Leeds opened in 1848 with station at Town End
1845 Salem Chapel built at end of Finkle Street (foundations failed)
1846 Mechanics Institute on Westgate built
1846 Mill on Long Street started operating
1847 Register Office built at the end of Finkle Street
1848 Rail link to Ripon and Leeds opened also Town End Station
1849 The Savings Bank on Castlegate built
1850 Infermary built behind the Workhouse on Sutton Road.
1851 Methodist Chapel built in Castlegate
1851 Thirsk Church Vicarage built
1851 Thirsk's first Cricket Ground opened North of the Cemetery
1852 Norby Foundry started
1854 Police Station in Westgate built
1854 Race Course laid out
1855 Steam Engine installed at The Mill
1855 Town End Station closed to passenger traffic
1856 Town sewage drain laid from Kirkgate to Codbeck at Finkle Street
1857 Gas Mains extended to Sowerby
1857 Tollbooth etc and nearby 'Shambles' demolished
1860 Bamletts started business on Station Road
1861 Wesleyan Chapel built on St. James' Green
1862 New Cricket Ground laid out on Newsham Road
1864 Bakers Drapery (parents of John - noted Kew Botanist) burnt down
1865 Church School built on Piper Lane and The Green
1867 Catholic Church built in Castlegate
1870 New premises built on site of Bakers
1872 Zac Wright opened Bookshop and Stationary shop next to The Fleece
1873 Blue Row or Victory Row built on Sowerby Road
1873 Masonic Lodge built on Picks Lane
1885 Court House in Westgate built next to Police Station
1886 New Salem Chapel built on site of 1845 old one
1886 Fever Hospital (Infectious Cases) building built to N.E. of Workhouse
1887 Castle Villa built
1887 Lime trees planted on Sowerby Front Street
1890 Lambert Memorial Hospital opened
1890 'The Crescent' built
1890 Lambert Memorial Hospital opened, named after a noted Thirsk physician.
1892 Rail crash - killing 10, including 5 year old Lottie Hamilton
1896 Royal Pavilion built on Race Course.
1896 Market Clock built to mark 1893 wedding of the Duke of York and Princess May of Teck - later to become King George V and Queen Mary.
1898 Metal bridge from The Green across The Codbeck erected
1901 Ayres on the Corner of Finkle Street added 'Dutch Gables' to its facade
1901 Midland Bank took over The Yorkshire Banking Company on Millgate
1904 Electric street lighting installed
1905 Paving 'flags' on North side of The Market laid
1905 Thatched roofs on Central Block replaced with tiles and 'spruced up'
1907 Newsham Road Cricket Pavilion opened
1907 Performances of the Thirsk Historical Play celebrate a thousand years of the town's history.
1908 Centre block of shops in Market Place demolished
1909 Meynell's at the Town End opened
1909 New Post Office and Sorting Office built in centre of The Market
1910 Barclays Bank rebuilt
1910 Ingramgate laid with Tarmacadam
1911 Road Bridge over Codbeck at Worlds End built replacing ford
1912 B Smiths shop front on South side of The Market Place modernised
1912 Gaiety Cinema in Long Street built
1912 Mechanics Institute converted to a Cinema – later known as The Ritz
1913 Town Hall on Westgate built
1914 Cattle Market on The Green ceased
1914 Gas Lamps removed
1918 The Fleece purchased by Ellen Lee, becoming 'Lee Fleece Hotel'
1920 Norby Foundry closed
1920 Thirsk Grammar School built
1920 The Royal Pavilion on the Race Course demolished
1924 New Grandstand constructed at The Race Course
1927 Sign on YBC building changed to Midland
1928 Regent Cinema built
1928 White Mare Hotel demolished
1932 Gaiety Cinema on Long Street burnt down
1933 Knowles Ice Cream shop opened on East side of market
1934 Royal Oak facing had 'cladding' fitted
1935 Boots The Chemists bought Foggitts Chemists on South side of Market
1935 Regent Cinema opened
1935 Taylors (the Chemist) became Timothy White and Taylors
1936 The Fleece purchased by Trusthouse Forte, as The Golden Fleece
1937 Clock converted to operate Electrically
1937 The Mill Race dredged
1940 Central Café opened in centre of market by Dolly Dennis
1943 PoW Camp built at Stonybrough on Stockton Road
1947 Hambleton View houses built
1953 New sewage system serving Thirsk and Sowerby installed
1955 Mill ceased operating
1957 Mill Race filled in
1957 Original Grammar School now the Thirsk and Sowerby Junior School
1957 Thirsk Grammar and Modern School built on Topcliffe Road
1958 New Public Toilets built on site of old underground ones
1958 Telegraph poles removed from Post Office and Bakers Alley
1960 Glovers (Mowbray Farm Services) built on Town End allotments
1960 Methodist Chapel on The Green demolished
1963 Boots modernised and T.W. and Taylors sold.
1963 Crown Hotel demolished and Fine Fare built in its place
1964 Round window installed above Knowles' shop
1965 Main line Rail link to Ripon and Leeds closed
1965 Electric Showroom replaced Mosses
1966 Maltings on Topcliffe Road ceased operating
1967 New Beech tree planted on The Little Green replacing the Elm
1967 Rail crash killing 7
1970 New Grammar School renamed Thirsk (Comprehensive) School
1971 B Smiths building demolished
1971 Swimming Pool built
1972 A19 Bypass opened
1972 Golden Lion Pub in S.E. corner of The Market closed (1st time)
1972 Market Place cobbles re-laid
1972 Ozzey Hall in The Market Place changed to Frank Jones
1975 Thirsk Museum in Kirkgate (birthplace of Thomas Lord) founded
1978 Woodhead and Bray (previously Shaw) moved from Market Place to Glovers site at Town End
1978 Yorkshire Bank extended to Harlows, Maynards etc. modernised
1979 Infants School on Finkle Street converted to The Library
1980 Pelican Crossing replaced Zebra Crossing
1985 Bamletts closed
1986 Golden Lion closed (2nd time having re-opened earlier)
1986 Fine Fare changed to Somerfields
1987 Clock completely overhauled and renovated
1987 Threshers built on East Side of Market
1988 Coop replaced Somerfields
1988 Salem Chapel burnt down
1988 Zac Wright's shop closed down
1989 William Low (Supermarket) built on Bamletts site
1989 'Period' Street Lighting installed
1990 About £120,000 raised by the town to keep the Lambert hospital open
1990 Knowles expanded into Electric Showroom
1990 Post Office closed and facilities moved to the Coop shop
1990 Trusthouse Forte sold The Golden Fleece
1991 Bus shelter relocated
1991 Public Toilets in the Market removed
1991 Ruins of Salem Chapel removed
1991 Swimming pool extensively renovated
1992 Waterside cottages demolished
1994 Tesco replaced Wm. Low on Station Road.
1995 Ritz Cinema re-opened
1997 Red Bear Pub in The Market changed its name to The Darrowby Inn
1998 Workhouse site converted to residential use
2000 Kings Arms Pub at the start of Kirkgate redeveloped as Police Station
2000 Millenium celebrations
2006 Thirsk Farmers Auction Mart moved from Station Road to edge of Thirsk on A19 and the old site of Auction Mart developed for housing
2009 Lidl supermarket built on old Johsons Stables site on Station Road
2011 Thirsk's information centre moved into converted public toilets building and taken over by volunteers.
2013 Market Place cobbles re-laid
2015 Lambert Hospital closed
2015 Library moved from Old Infants School Finkle Street to new Meadowfields Site
2017 Aldi, Premier Inn and Orchid House opened on Topcliffe Road as part of Sowerby Gateway expansion
2019 Lambert Hospital purchased by Hambleton District Council
2019 Two-direction junction to and from A168 opened
2020 Sports Village in Sowerby opened
Historical trail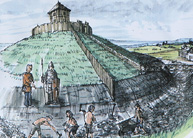 Thirsk and Sowerby Past and Present is a town and countryside trail that has been designed by the local community.
It takes in 12 sites of historical and environmental interest. The route is circular, flat and approximately 3 miles long, but may be shortened (alternative routes are indicated on the leaflet).
In total there are 15 interpretation boards that extend from the centre of Thirsk and include such sites as Thirsk Castle, the old Mill Race and a prehistoric burial mound.
A leaflet with a map and walkers' guide to find the explanatory boards around the town is available in the Tourist Information Centre. To see the trail online right now start here. You can also download (pdf).