Thirsk Guide

Thirsk Guide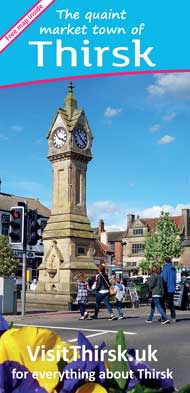 To find your way around 'the quaint market town of Thirsk' you need our free guide. The map clearly shows the paths, snickets and ginnels which permeate the town. It will help you find children's play areas and show you how to escape the built up area on foot in just a few minutes. Wheelchair and pushchair walkers can see how to explore within the town.
The guide also shows contact details for places where visitors might want to go to such as activities for children, markets, abbeys, historic houses, gardens, birds of prey, heritage railways, cinemas, theatres, concerts and fishing.
The Thirsk Guide is available free of charge from the information centre (small donation appreciated) and from many other places in and around the town.
If you are not yet in Thirsk send an addressed envelope (DL or A5 size) bearing a 1st or 2nd class stamp to Thirsk Tourist Information, 93A Market Place, Thirsk YO7 1EY. We will post the Thirsk Guide to you by return.
A walk around the Blue Plaques is also available (50p) and a longer trail to understand the history of Thirsk and how it became its present day self comes as a booklet (50p) and a downloadable free smartphone app for Android phones or iPhones.